Wine Accessories: Gift Ideas- Stainless Cheese Knife, Decanter tickets, bottle candles, Wine Aromas and more...

Click on Pictures to see Larger Image


Stainless Steel Cheese Knife
This new cheese knife and server is a great Cheese knife and dramatic looking too. Stainless Steel, serrated and with the word "CHEESE" cut out in the blade. Makes for a great conversation piece and unique gift.
Comes packaged in a clear plastic covered box. Size: 9" long x 1".

$9.99 each



Engraved Stainless Steel Cheese Knife
The engraved Cheese Knife makes a great gift or promotion piece. This new cheese knife and server is a great Cheese knife and dramatic looking too. Stainless Steel, serrated and with the word "CHEESE" cut out in the blade. Makes for a great conversation piece and unique gift.
The engrave area is 2" X 5/16" on the handle by Metal Laser. Comes packaged in a clear plastic covered box. Size: 9" long x 1".

$10.99 each



Pewter Bottle or Decanter Placard
Handsome and traditional way to label the contents of a decanter or bottle.
These can be laser engraved on the face.
2-3/4" wide, 2-3/8" high. Chain 6-1/2".
Personalized gift suggestion: A custom set of decanter placards engraved with "Rum", "Bourbon", "Scotch" or "Madeira", "Port", "Bordeaux", "Burgundy" or "Cabernet", "Merlot", "Zinfandel" and "Syrah" is a great gift idea.
To have yours engraved: Enter the required information below.
$10.99 each, minimum of 5 required.



Winelight Complete Set
Wine, candlelight, and romance -- now you can capture that special memory forever with our amazing Wine Lights. Easily convert any wine or champagne bottle into a beautiful and romantic oil lamp. Simply fill your cleaned, empty bottle with lamp oil, insert the Wine Light, and top it off with the flame protector. Put your empty bottle to good use and keep the flame of your romance burning forever! Flame Protector won't fit flange bottles. Wick will last approx. 4500 hours. Set includes two winelights and one 32 oz. bottle of wicker fluid.

$34.95



Oil & Vinegar Cruet
This unique handblown crystal cruet is designed with a grape cluster that holds the vinegar afloat in a larger chamber of oil. Two corked spouts provide for separate pouring. Holds 15 oz. of your favorite olive oil and 5 oz. of the vinegar of your choice. 8 inches high.

$34.95



Wine Door Mat
Our welcome mat is guaranteed to put a smile on your guests' faces as they arrive at your next wine tasting or wine dinner party. Keep your house clean and your friends smiling. Great for indoor use. Carpet fabric, Size: 27"L x 17-3/4"W. Who knows? This might just inspire someone to bring an old and wonderful wine to your next gathering!
$24.95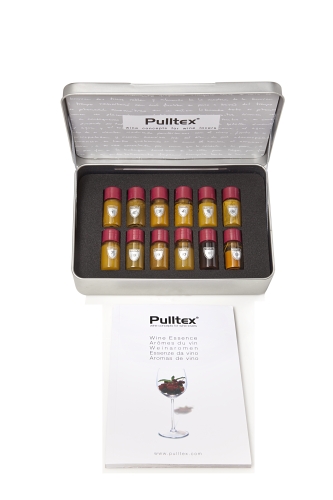 Introduction to Wine Appreciation for Wine Lovers - Red and White 12 Aroma Kit
This Wine Appreciation Kit provides the passionate wine lover with an accessible guide to evaluate wine professionally.
The kit has been created under the direction of Philip Rich, a professional Australian wine taster and judge. It contains everything you need to evaluate the quality and character of the wines you have purchased and provides a fun way of learning the secrets of sophisticated wine appreciation.
Through the step-by-step evaluation process, you will begin to train your eye, nose and palate. Wine tasting is an ancient art and a refined understanding of this process will lead to an increase in the pleasure, enjoyment and knowledge of the wines you are drinking.

White Wine Aromas
Grapefruit
Lemon
Lime
Melon
Apricot
White Peach
Tropical
Kiwi Fruit
Butterscotch
Charry-Vanillin Oak

Red Wine Aromas
Strawberry
Rasberry
Plum
Dark Cherry
Black Currant
Black Pepper
Capsicum
Undergrowth
American Oak
French Oak

Each kit contains 12 aroma profiles for red or white wine in glass bottles,
professional wine appreciation manual with step by step intro (Hosting a tasting event - Wine Buying Tips - Evaluating Appearance - White Wine Colour References - Understanding your Nose - Wine Faults - Evaluating Aroma & Bouquet - White Wine Varieties - Understanding your Palate - Evaluating Flavour - Wine Glossary),
Assessment Book (keep a record of your wines in this professionally formatted book)
and wine nose evaluation strips (convenient blotting strips for accurate aroma sampling and evaluation).
Made in Australia.
$99.99 each





40 Wine Aroma Essence Kit in new Metal Box
Common essences found in all types of wine are captured in glass vials. Used by wine merchants, wineries and educators as a tool to develop senses for the complex components of wines.
The Deluxe Set contains 40 essence vials, descriptive booklet, new metal box.

The Essence Collection was designed to help you "educate your palate" in order to maximize your enjoyment of wine. The enclosed booklet gives a brief description of the contents of each of the vials in the collection.
Pick a vial, and read the description in the booklet first. Then open the vial and hold it no closer than 6 to 8 inches from your nose. The smell will reach your nose in a second or two. Take your time in going from essence to essence. You might only want to do a few at a time.
You may prefer to arrange a "group training" that will allow you to further challenge your olfactory abilities. After you and others have taken the complete "lesson," you can test one another. Have someone else open the vials (covering the number) while you, with open booklet in hand, try to match the essence with the page in the booklet. You will be quite surprised how well you will remember these smells.
The next time you taste wine, you may want to test your memory first. Then, if necessary, go back and check the booklet and vials. One expert says, "A large part of the wine taster's skill comes from being able to develop some sort of classification system and then to associate words/categories with smells." These kits help build your memory of wine aromas, the key to a wine taster's skill.



Deluxe Aroma List:
1 rose
2 violet
3 amber
4 leather
5 pine
6 truffle
7 mushroom
8 apple
9 red currant
10 grapefruit
11 raspberry
12 banana
13 peach
14 lychee
15 quince
16 strawberry
17 fig
18 butter
19 hazelnut
20 caramel
21 licorice
22 vanilla
23 pepper
24 acid sweets
25 plum
26 apricot
27 lemon
28 cinnammon
29 honey
30 honeysuckle
31 hay
32 boxwood
33 chocolate
34 tea
35 tobacco
36 green pepper
37 cork
38 mildew
39 sulphur
40 skatole


Deluxe - $249.99