Angelo Sassetti Montalcino

In Tuscany, on the northern flank of the hilltop town of Montalcino, lies the Pertimali estate. The terrain is Eocnic origin with marl and clay alternating with limestone, situated on slopes with sufficient inclination for water to drain off rapidly and well. Angelo Sassetti began producing wine 7 years ago in a small winery built into the farmhouse, From his acres of hand manicured vineyards and rigorous control over crop level, Angelo's small lot and unfiltered winemaking produces 10,000 - 12,000 bottles of Rosso and 15,000 - 18,000 bottles of Brunello. The most important factor in the excellence achieved by Angelo Sassetti with his Rosso & Brunello di Montalcino is his total dedication to every stage of his wines from his hand care of his vineyards, to his total involvement in each of the procedures in his cellars. That is why his vineyards think of him as Angelo "the angel" Sassetti.


A. Sassetti Brunello and Rosso di Montalcino




Rosso di Montalcino
Rosso is a new appelation for red wine from Brunello grapes of Montalcino, which is not aged as long as Brunello. Usually lacking the austere, tannic complexity of aged Brunello, Rosso di Montalcino makes excellent drinking at a lower cost and its alternative appelation as a DOC that gives growers the option of using, from the same Brunello vineyards, the lesser qualified grapes (younger vines or less ripened clusters) so as to select the superior grapes for the wines to be aged as Brunello, while declaring the rest as Rosso di Montalcino. It has a deep color, is concentrated and rich, opening to layers of spicey berry aromas and flavors, with an excellent balance and finish. A compliment to pasta dishes, red meats or game. Serve at room temperature.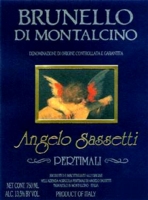 Brunello di Montalcino
This wine is made from 100% Sangiovese Grosso grapes. The long period of aging (four years, of which three and a half are in oak or chestnut casks) is one of the distinctive characteristics of this wine. A further period in the bottle completes the work of refining the wine to its optimum taste. Climate is perhaps a more significant factor than specific clones in creating the characteristics of the wine. The town of Montalcino, 70 miles south of Florence, enjoys a warmer drier climate than the various zones of Chianti, and the open countryside around it ensures both excellent ventilation and cool evenings and nights. The Sangiovese reaches its maximum ripeness here. The DOC regulation of 1960 established a minimum period of cask aging of 42 months, confirmed in 1980 by DOCG rules. A campaign to lower this period gained support in the latter half of the 1980Ős when the minimum aging period was lowered to 36 months in 1990. This Brunello has a deep red color, is concentrated and initally closed before layers of rich fruit unfold. It has spicey deep flavors with medium tannin and a long finish, A delight with pasta dishes, red meats or game. Decanting is recommended. Serve at room temperature.