Bertrand Jeannot Pouilly Fume

Bertrand Jeannot and his son Alexis make this beautiful Pouilly-fume, which received the Medaille d'Argent (Silver medal) this year at the prestigious Paris Concours. The wine-growing district of Pouilly-sur-Loire, in the central Loire valley, has been producing fine white wines since the middle ages. Made from the Sauvignon Blanc grape varietal, these vines are grown in pebbly soil containing a variety of silica, clay and limestone, a mixture that gives a fine balance to the wine. It is powerful without losing balance, lively, but still firm, and matures well in the bottle.


Pouilly Fume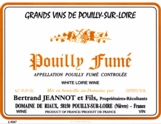 Pouilly Fume Grand Vins de Pouilly-sur-Loire
Appellation Pouilly Fume Controlee. This lovely wine displays classic Sauvignon Blanc characteristics of a pale golden color with greenish reflections and aromas of honeysuckle and acacia. It is beautifully structured and well balanced. Ideal served with fish, chicken, and cheeses, or simply to enjoy as a sipping wine. Serve chilled.