Fattoi Capanna

Owned by the Fattoi family, the Capanna "Azienda" is situated in the beautiful landscape of Montalcino, facing towards the rivers Ombrone and Orcia, near the "Chiesa di S. Restituta". This is the area recently "discovered" by Angelo Gaja, where the Fattoi Family have been for many generations. The Azienda is run by the father Offelio and his two sons Leonardo and Umberto who keep an enthusiastic eye on all the details of the wine production from the vineyards to the wine cellar. The Fattoi's are famous for their unfiltered, full-bodied wines that are rich in color and aroma. They started production in 1979 and originally sold their wine "sfuso" (unbottled). Today they produce about 550 cases of Brunello and 850 cases of Rosso & export their wines to Switzerland, Germany & America. Fattoi is considered the Biondi~Santi of the New Age of Italian Winemaking.


Fattoi Rosso and Brunello di Montalcino




Rosso di Montalcino
Rosso is an appellation for red wine from Brunello grapes of Montalcino (Sangiovese Grosso) not aged long enough to qualify as Brunello. Usually lacking the austere, tannic complexity of aged Brunello, Rosso di Montalcino makes excellent drinking at a lower cost,. As Italy's first alternative appellation to DOCG, this gives growers the option of using grapes from the vineyards for either Brunello or this younger DOC. In good years they may select superior grapes for wines to be aged as Brunello, while declaring the rest as Rosso di Montalcino. Often referred to as the "Baby Brunello" , Rosso has a deep ruby red color with a round, elegantly full, velvety quality in the mouth.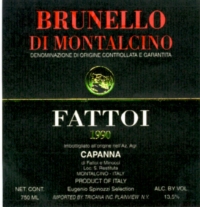 Brunello di Montalcino
Made from 100% Sangiovese Grosso, which has been aged for four years; three and a half years in oak or chestnut casks which is one of the distinctive characteristics of this wine. A further period in the bottle completes the work , making it gentler to the nose and palate. It is full with spicy fruit flavors and a velvety finish. Excellent when served with game, meat and cheese dishes. At maturity it is excellent for sipping.